Birmingham campaign against Project Champion
Birmingham Spy Cameras - NO THANKS!
- anti Automatic Number Plate Recognition (ANPR) group
(Spy on Moseley - anti Automatic Number Plate Recognition (ANPR) group)
Home Page :www.spyonmoseley.co.uk
Facebook group: Birmingham Spy Cameras - NO THANKS!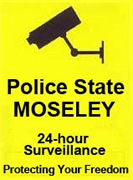 A group was set up by Steve Jolly in Moseley, Birmingham to fight a 'ring of steel' encircling parts of the city with Automatic Number Plate Recognition (ANPR) cameras. The scheme is called 'Project Champion' and is funded by a £3m grant from the Home Office. Further investigation has revealed that the funding for this scheme was allocated allocated by ACPO (TAM) [Association of Chief Police Officers Terrorism and Allied Matters].
This has implications for every person in Britain with regard to the intrusive role of the state and the mass monitoring of innocent people. In order to monitor a few potential 'bad guys; we are all under the watchful eye of the surveillance state. It's taking liberties in every sense. This is a line in the sand and it has been crossed. Unless we object to this and protest in the strongest terms this spy scheme will simply be imposed on us whether we like it or not. Now it's time to stand up and be counted.
To view the location of project champion cameras go to:
http://www.no-cctv.org.uk/camera_locations/birmingham_project_champion_locations.asp
++ Latest News ++
9th May - The removal of Project Champion cameras finally begins
Twenty-six weeks after Chris Sims, West Midlands Police Chief Constable promised at a meeting of the West Midlands Police Authority that the cameras would be removed, now at last they are coming down.
This is great news for the people of Birmingham but the CCTV and Automatic Number Plate Recognition (ANPR) network around the country continues to grow. People around the country must build upon this succes.
Media coverage:
For more information see the Birmingham Against Spy Cameras Facebook page at http://www.facebook.com/group.php?gid=119180531441911&v=wall
---
2nd December 2010 - The cameras are coming down!
At its meeting on 2nd December 2010, the West Midland Police Authority agreed "that the scheme known as Project Champion should be withdrawn and all remaining cameras, poles and relevant equipment should be removed".
Congratulations Steve Jolly and all of the other campigners in Birmingham!
See Minutes of 2nd West Midland Police Authority meeting.
---
2nd November 2010 - Scrutiny Review Report published
Birmingham City Council has published a report entitled 'Project Champion:Scrutiny Review into ANPR and CCTV Cameras'.
The report can be downloaded here
And additional evidence here.
---
16th October - Public Protest against Birmingham Spycam Scheme
*IMPORTANT ANNOUNCEMENT*
Saturday 16th October - Protest against spycam scheme
We the people forced the police to halt their spycam scheme and cover up their cameras with bags. Now it's time for the police to listen to very carefully. We say, TAKE THEM DOWN! Details to follow - look out for announcements at
http://www.facebook.com/group.php?gid=119180531441911
---
30th September - Review of Project Champion (conducted by the chief constable of Thames Valley Police) published
The so-called "independent review" of Project Champion conducted by the chief constable of Thames Valley Police has now been published. The report is really a review of West Midlands Police rather than Project Champion. None of the fundamental issues of the rights and wrongs of surveillance of this kind were addressed and no mention was made of whether the cameras should be removed.
Download the review at:
http://www.west-midlands.police.uk/latest-news/docs/Champion_Review_FINAL_30_09_10.pdf

Interesting analysis of the review from data protection expert Chris Pounder ('Project Champion Report misses the target when discussing CCTV surveillance, privacy and data protection') can be found at:
http://amberhawk.typepad.com/amberhawk/2010/10/project-champion-report-misses-the-target-when-discussing-cctv-surveillance-privacy-and-data-protection.html

And on the SpyBlog website ('Project Champion Review - CCTV and ANPR mass surveillance ghettos in Birmingham') at:
http://p10.hostingprod.com/@spyblog.org.uk/blog/2010/10/02/project-champion-review---cctv-and-anpr-mass-surveillance-ghettos-in-birmingham.html
---
30th August - Police Authority "Trust and Confidence" Meeting Backfires
Attendees were baffled and bemused by the police authority meeting on 4th August 2010. It's hard to see what the police authority were hoping to achieve, other than ticking the box to say they had "listened" to the views of local people. They will no doubt use it as proof of their commitment to "engagement" with local communities about policing in the west midlands. Having ticked that box they will presumably carry on with whatever undemocratic and unaccountable processes they intend to pursue, since they don't appear to have even thought about the views and concerns of local people in the past and still show no signs of doing so even now.
The stated purpose of the West Midlands Police Authority's public meeting was to hear people's views on 'Trust and Confidence in Policing' and how this might be improved. It was prompted by the public outcry over the attempted implementation of an unlawful mass surveillance scheme that targets two predominantly Muslim neighbourhoods of the city.
Here is the police authority press release about that meeting on 4th August:
http://www.west-midlands-pa.gov.uk/viewpr.asp?id=76&category=pressreleases
Video of the meeting can be viewed online at the following links:
Part 1 Part 2 Part 3 Part 4 Part 5
---
14th July - Dodgy Project Champion Review announced
West Midlands Police have announced that a so-called "independent review" of Project Champion will be conducted by the chief constable of Thames Valley Police, who just happens to be Vice Chair of the Association of Chief Police Officers Terrorism and Allied Matters Committee (ACPO - TAM), the body that funded Project Champion.
Read more here
---
8th July - Surveillance Cameras Panel Discussion on UnityFM
Thursday 8h July 5-6pm
on UnityFM Radio 93.5 Mhz
Listen online at http://www.unityfm.net
Community Radio Unity FM has arranged a panel discussion on the Survaillance cameras in inner city Birmingham. The panel will consist of political representatives, representatives of the Police, Safer Birmingham and activists campaigning on the issue. The panel will answer questions from the audience.
---
4th July - Rally against the cameras in Birmingham
Sunday 4th July 4pm at The Bordesley Centre, Stratford Road, Camp Hill,
Birmingham B11 1AR
+ Videos of speakers now online at http://www.youtube.com/watch?v=ZPb_r-HN15I +
To view a short ITV Central News report of the rally click here.
Public event intended to rally support for communities in Birmingham, stand up for our privacy and civil liberties and oppose the mass surveillance of ordinary citizens by our government. Organised by Birmingham Against Spy Cameras.
Keynote speakers included:
Shami Chakrabarti, director of human rights and civil liberties organisation, Liberty;
Gareth Pierce, top human rights lawyer, who has represented countless very high profile clients;
Salma Yaqoob, Sparkbrook Councillor and Leader of the Respect Party;
John Hemming, MP for Birmingham Yardley;
Ray Gaston, Methodist / Inter-faith preacher and author of `A Heart Broken Open'
Steve Jolly local campaigner against the surveillance cameras;
and others to be confirmed
Chaired/hosted by journalist and broadcaster Adrian Goldberg (talkSport, BBC Radio WM, The Birmingham Mail and editor of The Stirrer website, http://www.thestirrer.co.uk which is covering the story daily).
---
Councillors spycam reservations revealed
June 22nd, 2010
Councillors misled and given false assurances in police briefing. "Full consultation" was promised, then quickly forgotten.
See http://www.thestirrer.co.uk/?p=672
www.thestirrer.co.uk
---
24th June - West Midlands Police Authority Meeting
June 21st, 2010
A meeting takes place this week of the West Midlands Police Authorty Thursday, 24 June 2010 10.00 in the The Committee Suite, Lloyd House, Colmore Circus Queensway, Birmingham.
The authority authorised Project Champion in February 2008
This is a public meeting so all can attend.
---
Cameras to be bagged
June 21st, 2010
Channel Four News reports that, "An anti-crime partnership has agreed to delay the switch-on of more than 200 security cameras after complaints that they will infringe residents' civil liberties." What?! -"DELAY the switch-on? That's what they think. This fight will not stop until they are all REMOVED!
Spy cameras bagged after complaints
www.channel4.com

Steve Jolly phoned the Safer Birmingham Partnership to ask when the offending cameras will be covered over with bags, as promised in their recent press release. A spokesperson said they are awaiting delivery of "special bags" and that the 'bagging' should commence "in a couple of weeks."
---
*NEWS FLASH* Project Halted Pending Full Consultation
June 16th, 2010
A press statement was issued this afternoon (Wed 16th June) on behalf of Safer Birmingham Partnership, Birmingham City Council and West Midlands Police, following today's meeting to review the future of Project Champion.
See http://www.spyonmoseley.co.uk/?p=178
---
Angry Scenes As People Unite Against Spy Cam Scheme
June 9th, 2010
Every single councillor at last night's constituency council meeting (Tuesday 8th June) and the entire audience united in calling for the surveillance camera scheme to be scrapped. We all united in condemnation of the unwanted spy cameras put up in our neighbourhoods to track our every move. The whole room was unanimous in their outrage and over this gross assault on our civil liberties; it was democracy in action. People from the communities affected came and spoke out in the strongest possible terms. We totally trounced the Safer Birmingham Partnership and the police. They were broken and beaten and they must be going away for a major re-think of this ill-conceived plan that has clearly backfired.
This issue isn't going to go away, but maybe the cameras will. We can win this. Our lawyer from Liberty stood up and said they would be mounting a legal challenge. The whole thing's illegal. And NOBODY wants it. We're gonna get these things removed.