Royston, Hertfordshire
Royston anti Automatic Number Plate Recognition (ANPR) "Ring of Steel" group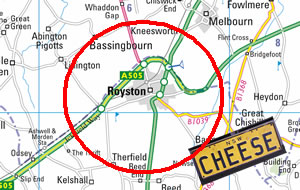 An ANPR "Ring of Steel" has been constructed around the town of Royston in Hertfordshire.
Contact royston@no-cctv.org.uk for more information or to get involved.
A network of Automatic Number Plate Recognition (ANPR) cameras has been constructed across the country and many towns are being encircled by a so-called "ring of steel", a phrase first coined to describe an extreme measure that now appears to be part of standard police operations.
5 things you can do right now...
If you live in or near Royston:
Write to your local councillors and MP expressing your concerns about the Royston scheme
Write to the ICO in support of No CCTV, Privacy International and Big Brother Watch's complaint
Write to your local newspapers highlighting the issue
Get involved - contact No CCTV for leaflets and stickers to distribute in Royston
Talk to everyone you know and help to inform the public
If you do not live in or near Royston:
Write to your local councillors and MP expressing your concerns about the national ANPR network
Write to the ICO in support of No CCTV, Privacy International and Big Brother Watch's complaint
Do some research - find out if there are plans for a similar scheme near you
On the basis of what you find out do some FOI requests to find out more and consider setting up a local campaign
Talk to everyone you know about the mass surveillance network being constructed
++ Latest News ++