NO CCTV / Related Events
11th July 2015
+ Drones and Forever War: Campaign Day 11th July 2015 +
Drones and Forever War
Sharing information, building the campaign
Drone Campaign Network Day Gathering
Saturday 11 July 2015
10.30am - 4.30pm
Friends Meeting House, Euston London

Keynote Speaker: Chris Woods, author `Sudden Justice: America's Secret Drone Wars'

With panels, workshops and networking
More details www.dronecampaignnetwork.org.uk
The event is free and open to all. Details and how to register at: https://dronecampaignnetwork.wordpress.com/summer-conference/
14th June 2014
+ Resisting the Drone Wars: Campaign Day 14th June 2014 +

The Drone Campaign Network is holding a day gathering for those interested in campaigning on the growing use of drones. The event will take place at Friends Meeting House, Euston on Saturday 14 June. The day will include speakers, workshops and planning for the Week of Action on Drones later this year. Speakers include
Jennifer Gibson, Reprieve
Alice Ross, The Bureau of Investigative Journalism
Chris Cole, Drone Wars UK
Chris Jones, Statewatch
Workshops will focus on national and local campaigns around the use of both military and civil drones.
The event is free but donations are welcome.
To book your place please email: campaigns@dronewars.net
PROGRAMME:
10.00am: Registration Tea/Coffee
10.30am: Welcome
10.45am: Drone Wars: Yesterday, Today Tomorrow? Panel with Jen Gibson, Reprieve; Chris Cole, Drone Wars UK and Alice Ross, Bureau of Investigative Journalism
12.00am: The Drones in Our Skies: Panel with Chris Jones, Statewatch; Chris Cole, Drone Wars UK and TBC
12.45pm: Lunch (Please bring your own or café open in Friends House)
1.30pm Re-group and announcements
1.45pm Workshops/working groups
3.15pm Short report back
3.30pm Where to from here: Week of Action plans & discussion
4.00pm AoB / notices
4.30pm Finish
To book your place please email: campaigns@dronewars.net
More details at http://dronewars.net/2014/04/07/resisting-the-drone-wars-campaign-day-14-june/
17th March to 1st July 2012
+ 1984 Looks Like This - An exhibition by David Dunnico, Salford Museum +
Manchester documentary photographer David Dunnico, brings together his photographs of CCTV surveillance and his collection on George Orwell's novel '1984', in a new exhibition.
For a number of years, Dunnico has documented the rise of CCTV surveillance in a series of graphic black and white images, looking at those who operate it, sell it and oppose it. Alongside this, he has also built up a collection of editions and ephemera about George Orwell's 1984 - the book's changing covers tell how every new generation of readers finds Orwell's work frighteningly relevant to their own times. This exhibition brings both of these together and shows images of CCTV in use around Salford and Manchester, artwork of covers of George Orwell's 1984 and explores the books themes and engaging the audience by making them think and ask questions. So they can decide is Big Brother watching you?
There is a booklet to go with the exhibition available for free download from:
http://issuu.com/daviddunnico/docs/cover_up_david_dunnico

For more details see http://1984lookslikethis.wordpress.com
Salford Museum and Art Gallery
Peel Park
The Crescent
Salford
M5 4WU
17th-19th September 2011
+ Freedom not fear events - Brussels, Belgium +
Saturday 17th - Monday 19th September 2011 Brussels
(Representatives of No CCTV will be attending the Brussels events).

European policy making is affecting our every day lives and civil liberties more and more. The EU is increasingly imposing unnecessary and disproportionate governmental surveillance measures on us. We will not take this any longer. Let's carry our protest into the capital of the EU!

We invite you to join us for three days of:

protest (Saturday, 17 September 2011)
networking (Sunday, 18 September 2011) and
debate with Members of the European Parliament and EU Commission staff (Monday, 19 September 2011).

Let us get together, meet friends from other parts of Europe and tell the EU that we won't take that continuous erosion of our fundamental rights any longer.
For more details see http://wiki.vorratsdatenspeicherung.de/Freedom_Not_Fear_2011/Brussels
10th September 2011
+ Freedom not fear demo - Berlin, Germany +
Saturday 10th September 2011 1pm Pariser Platz, Brandenburg Gate

A call for:
1. Cutbacks on surveillance measures
2. Evaluation of existing surveillance powers
3. Moratorium on new surveillance powers
4. Ensure freedom of expression, dialogue and information on the Internet
5. Preservation of human rights

For more details see http://www.vorratsdatenspeicherung.de/component/option,com_frontpage/Itemid,1/lang,en/
Saturday 30th October 2010
+ Life is too short to be controlled - part 2, London NoBorders +
Saturday 30th October 2010 3pm at Piccadilly Circus / corner of Coventry Street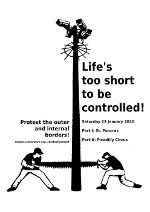 "Life is too short to be controlled - Part II", a protest against internal and external borders. The protest will take place in London on Saturday 30 October 2010, gathering at 3pm at Piccadilly Circus ( corner of Coventry Street/Haymarket ) and then off towards the UK border at St Pancras.
What is this about?

While the migration regime is fortifying itself and setting up rings of defence around European wealth, inner control is tightening to keep public order, at a time where the nation state already seems to be a dead corpse. And with an economy which exploits the most virtual property, the need to control even the remotest parts of people's lives is increasing.


- Watch the video trailer.
For more details see http://london.noborders.org.uk/lifestooshort
Saturday 24th July 2010
+ No CCTV Talk in asscoiation with TPUC Brighton +
Saturday 24h July 4-6pm
Brighton Railway Club
4 Belmont
Dyke Rd
Brighton
BN1 3TF
(It is close to Seven Dials and has a bar)
No CCTV will explore the state of CCTV in the UK today and outline why regulation is not the answer.
All welcome. Free admission (donations towards room hire welcome).
Thursday 8th July 2010
+ Surveillance Cameras Panel Discussion, Birmingham, Unity FM +
Thursday 8h July 5-6pm
on UnityFM Radio 93.5 Mhz
Listen online at http://www.unityfm.net
Community Radio Unity FM has arranged a panel discussion on the Survaillance cameras in inner city Birmingham. The panel will consist of political representatives, representatives of the Police, Safer Birmingham and activists campaigning on the issue. The panel will answer questions from the audience.
Sunday 4th July 2010
+ Birmingham Anti-Spycam Rally +
Sunday 4th July 4pm at The Bordesley Centre, Stratford Road, Camp Hill,
Birmingham B11 1AR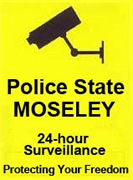 This is a public event intended to rally support for communities in Birmingham, stand up for our privacy and civil liberties and oppose the mass surveillance of ordinary citizens by our government. Organised by Birmingham Against Spy Cameras.
Keynote speakers confirmed so far include:
Shami Chakrabarti, director of human rights and civil liberties organisation, Liberty;
Gareth Pierce, top human rights lawyer, who has represented countless very high profile clients;
Salma Yaqoob, Sparkbrook Councillor and Leader of the Respect Party;
John Hemming, MP for Birmingham Yardley;
Ray Gaston, Methodist / Inter-faith preacher and author of `A Heart Broken Open'
Steve Jolly local campaigner against the surveillance cameras;
and others to be confirmed
The event will be chaired/hosted by journalist and broadcaster Adrian Goldberg (talkSport, BBC Radio WM, The Birmingham Mail and editor of The Stirrer website, http://www.thestirrer.co.uk which is covering the story daily).
Thursday 29th April, 8.30pm (and selected cinemas in May)
+ New Film - 'Erasing David', Nationwide Screening / Satellite Q & A +

David Bond has nothing to hide? but does he have nothing to fear?

David Bond lives in one of the most intrusive surveillance states in the world. He decides to find out how much private companies and the government know about him by putting himself under surveillance and attempting to disappear - a decision that changes his life forever. Leaving his pregnant wife and young child behind, he is tracked across the database state on a chilling journey that forces him to contemplate the meaning of privacy - and the loss of it.
'Erasing David' is a feature length docuentary that will be playing in selected cinemas from the 29th April. The 29th April is the big premiere evening - after the film there will be a live Q&A from the Brixton Ritzy that will get beamed to their other screens. Taking part in the debate are David Davis, Shami Chakrabarti, Michael Nyman, Will Self and David Bond, the director. For more details visit www.erasingdavid.com.

Venues include:
Aberdeen - The Belmont Picturehouse
Bath - Little Theatre Cinema
Brighton - Duke Of Yorks
Cambridge - Cambridge Picturehouse
Edinburgh - Cameo Picturehouse
Exeter - Picturehouse
Henley-On-Thames - Regal Picturehouse
Lancaster - The Dukes Cinema
Liverpool - FACT
London - Brixton Ritzy Picturehouse
London - Islington Screen on The Green
London - The Lexi Cinema Kensal Rise
London - Greenwich Picturehouse
London - Stratford Picturehouse
London - Notting Hill Gate
Newcastle - Tyneside Cinema
Norwich - Cinema City
Oxford - Phoenix Pitcturehouse
Prestatyn - The Scala
Southampton - Harbour Lights Picturehouse
Stamford - Arts Centre
Straford-upon-Avon - Stratford Picturehouse
Winchester - The Screen
York - Picturehouse

Following on from the launch event Erasing David will take a tour around other cinemas, including:
8-9th May - Newbury Corn Exchange
24-27th May - Dundee Contemporary Art

Wednesday 24th February - Saturday 27th March
+ Reality TV - CCTV Photography Exhibtion, Manchester +

David Dunnico, a documentary photographer from Manchester, has recorded the rise of CCTV in Britain and produced a timely polemic which mixes graphic, urban images and humour.

For more details see http://www.ddcc.tv
Friday 5th March 2010 - Brussels
+ What's left of your privacy in 2010... +
Friday 5th March 9am - 4.30pm
at Maison des Associations Internationales (MAI), Washingtonstraat 40, 1050 BRUSSELS
Progress Lawyers Network is organising a colloquium about privacy and the protection of personal data against the governments and employers.
Event cost (sandwiches, coffee and electronic workbook included), book before the 28th of February 2010:
Lawyers: € 130 (incl. printed workbook)
Others: € 40
Students, non-actives: € 15
Printed workbook also available: € 15
Today, George Orwell's big brother society is no longer fiction. The Colloquium will give an outline of privacy in the year 2010. Is art. 8 ECHR still being honoured?
For more details and the event agenda see http://www.progresslaw.net/index.php?pg=549&id=651